WELCOME TO TRANS FORWARD
Professional Auto Parts Manufacturer & Supplier
Our Story
Trans Forward Enterprise Co., Ltd., founded in 1981, is a professional steering and suspension parts manufacturer for over 30 years. We value end-user safety beyond everything, which means durable and sustainable product is crucial requirement to realize the value. The way to fulfill our commitment is to perform our capability in R&D, diverse material application, strict manufacturing procedure and high QC standard. With decades of practice for the commitment, it has rooted in our gene which keep us to evolve with innovative mindset.
After years of professional in auto parts territory , we expand business on value-added trade service. Our customer could not only enjoy quality steering and suspension parts, but carry rubber parts, engine parts, A/C parts, brake parts, and lamp from our subcontractors which are chosen through severe evaluation standard. In other words, the commitment to customer and end-user is inherited to our trade service.
Today, we offer more than 8,000 of steering and suspension parts, ranging from passenger car (performance and classic car), truck to agricultural tractor, forklift, from Japanese, Korean applications to American, European applications; trade service provides 5 more parts sections to fulfill various body parts demand. Such wild ranges of quality products and capability have us to be seen and trusted from customers all over the world.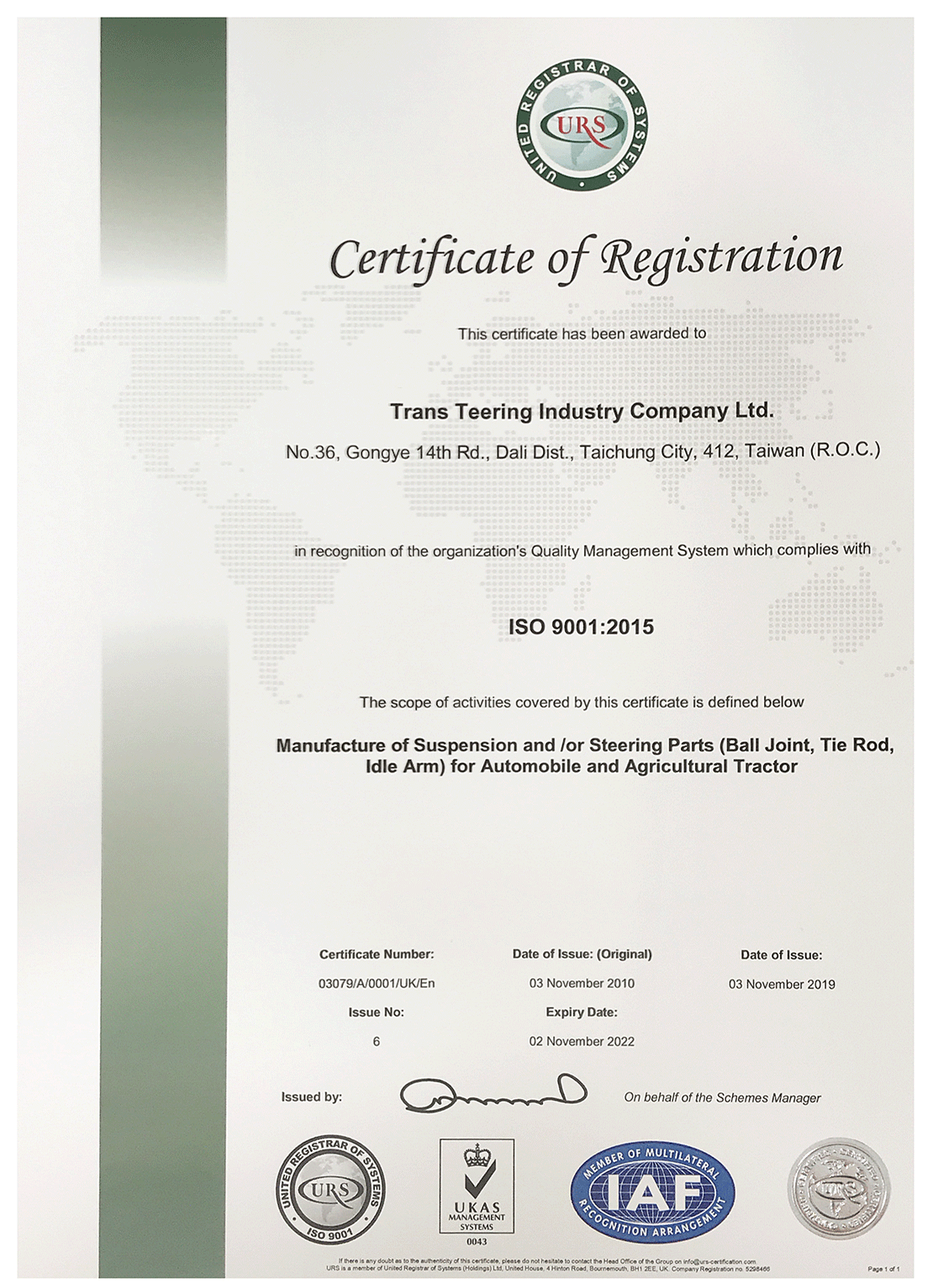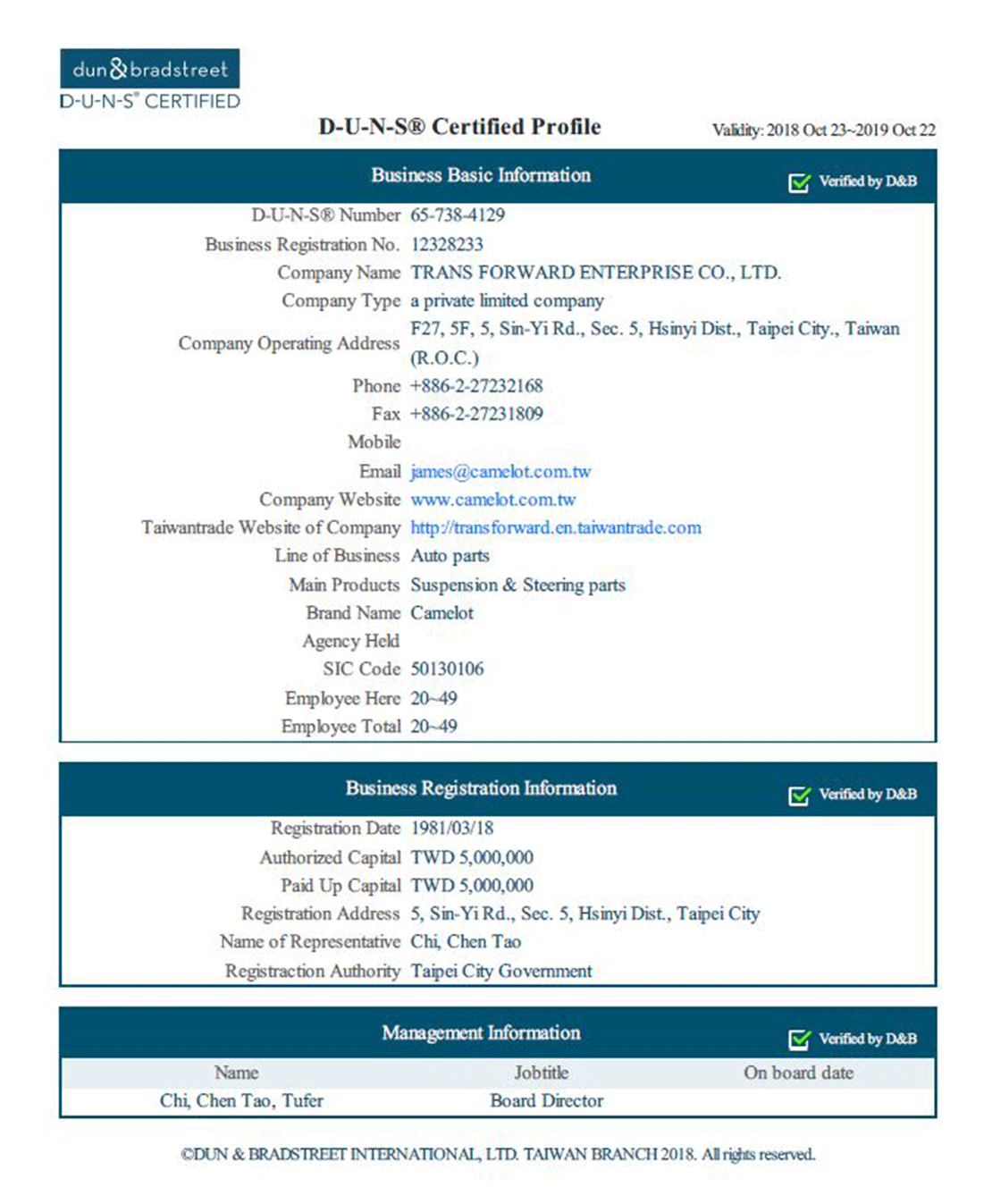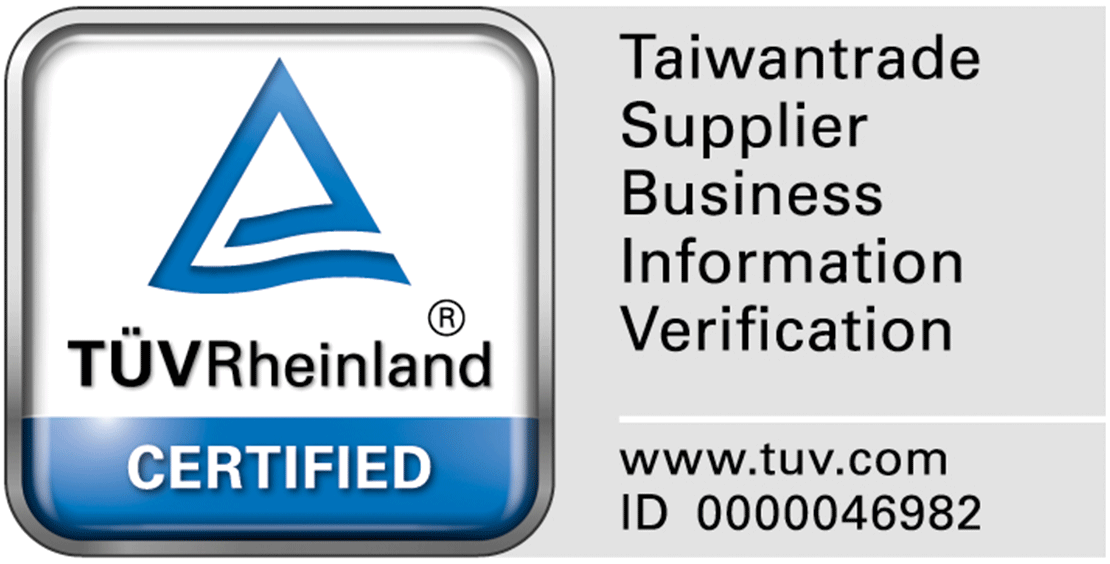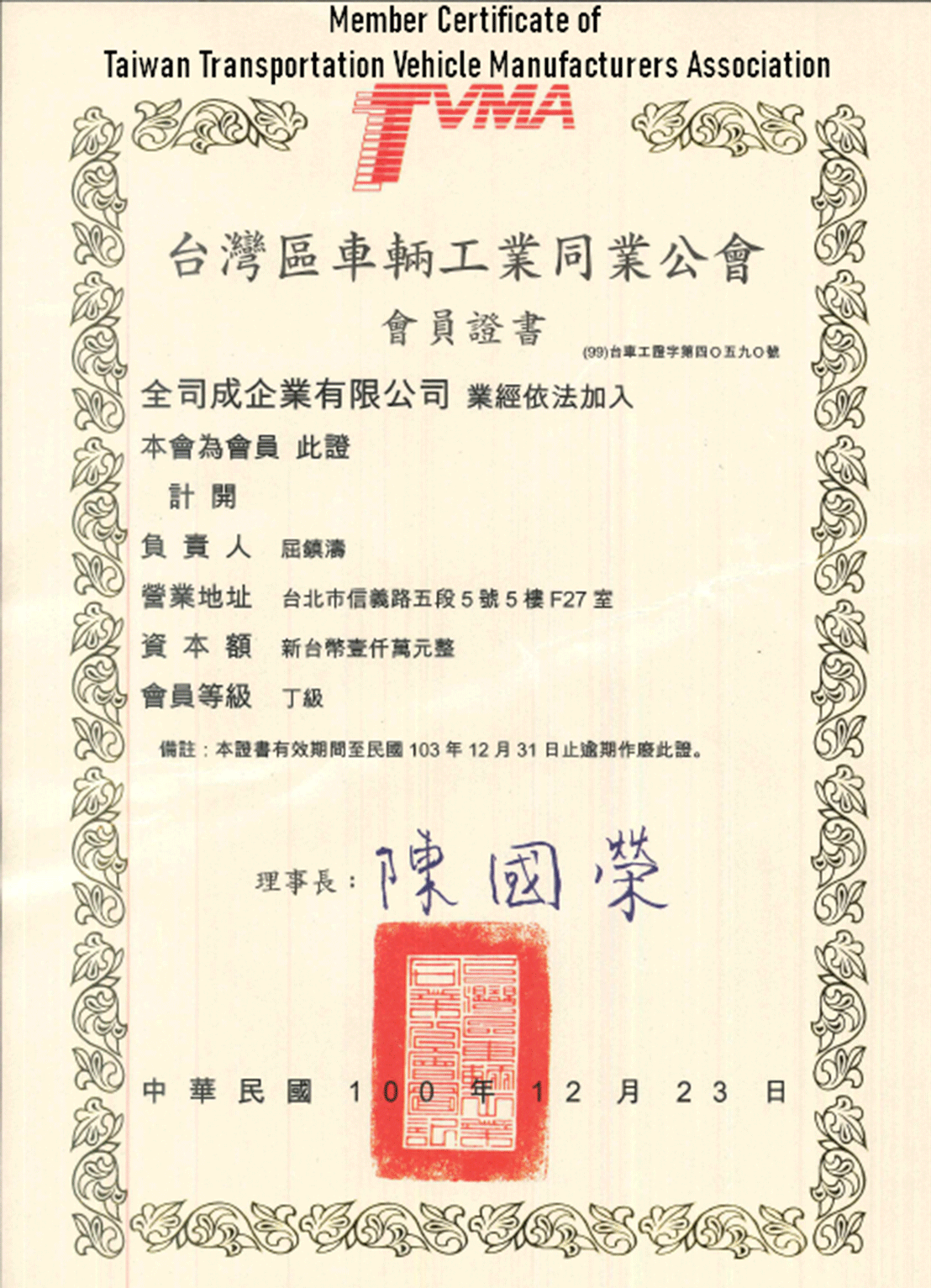 Core Value
Professional
Excellence
Innovation
Efficiency
Milestone
| | | |
| --- | --- | --- |
| 1981 | TRANS FORWARD ESTABLISHED | Chen Tao Chi, chairman, started auto spare parts business from experiencing a surge in demand of durable and diverse auto parts. |
| 1985 | JOINT VENTURE WITH AUSTRALIAN PARTNER | Managing procedure of GM quality standard was introduced for us to evolve into a global qualified enterprise. |
| 1986 | 1st FACTORY BUILT IN TAICHUNG, TAIWAN | Following by GM managing procedure, chassis parts was where Trans Forward started its commitment of quality product. |
| 1987 | CAMELOT UNVEILED | To bring good product to the world, CAMELOT identity was created to realize our vision. |
| 1994 | TRANSHENG FACTORY BUILT IN CHENGDU, CHINA | Foreseeing auto market booming, China factory was built to supply domestic origin and aftermarket parts. |
| 2001 | BEGINNING OF CLASSIC CAR PARTS WITH OVER 100 YEARS OLD USA AUTO BRAND | New territory to bring our innovation design into full play. |
| 2003 | AMERICAN BOSTON UNVEILED | AMERICAN BOSTON was born to fulfill growing demand of South America aftermarket. |
| 2004 | COOPERATION WITH TOP AGRICULTURAL MACHINERY BRAND | We contracted with well-known brand customer for long-term cooperation. |
| 2005 | PERFORMANCE SERIES ON THE ROAD FOR FAMOUS AUSTRALIAN TUNING BRAND | A stage to optimize our customization potential and capability. |